LumberJack is a gritty, slightly groomed character, created for the iClone Lip-Sync Animation Contest 2021.
The LumberJack character was created in Character Creator – CC3, and further animated using iClone. The voice actor was created from artificial intelligence thanks to the Replica Studios – AI Voice Actors software. The Replica audio was imported and combined with AccuLips and Explus features to enhance the facial expression.
LumberJack https://www.youtube.com/watch?v=sLzjNjSjvQQ
Update: *Gewinner / – iClone Lip-Sync Animation Contest 2021
Check out this Exclusive interview with Rob Crabtree and Reallusion (Translated from the original interview in German).

This time Rob Crabtree shares with us his story and his character animation "LumberJack" which won the iClone LipSync Animation Contest 2021.
Reallusion: Hi Rob! Welcome to the Reallusion Blog. Tell us a little bit about yourself.
After studying photography and animation, I directed music videos and commercials in London before creating award-winning film trailers and opening credits for some of Hollywood's top films. During my time in the film industry, I discovered how expensive and time consuming working on films with actors, large sets or locations can be. It was then that film technology went from analogue to digital and the first Macintosh was introduced (before the Internet). At that time, the hardware and software for creating digital 3D animations was still very expensive. That's why I always valued an original concept and the visualisation of the look and feel in a storyboard or in keyframes. It was important to be able to communicate the concept and final look with clients and other professionals on the team in order to produce the project efficiently and on budget.
After my valuable time in the film business in Hollywood, I concentrated on developing my own ideas and projects after moving to Europe. I am the owner and creative director of Europafilms, an independent creative studio. Our specialty is creating concepts for compelling brands and telling stories through film, photography, visual effects and animation.
R: How did you discover Reallusion and why did you choose iClone (and Character Creator)? What are the biggest benefits of using iClone (and Character Creator) in your workflow?
I was looking for a way to add 3D characters and digital people to our short films and photo projects. Character Creator and iClone offered a solution to create virtual characters in any pose and add them to our professional 3D renderings with iRay.
We found iClone particularly useful for blocking live-action actor sequences for our short films and commercials. While the software is a bit sophisticated, we've found it to be intuitive and works well with the other programs in our pipeline. Over the past three years and with the latest pro enhancements from iClone and Character Creator, we've seen how realistic and cost-effective digital humans can be in our films.
Technology is constantly evolving and in many high-end films, and particularly visual effects shoots, it is almost impossible to distinguish between real actors and digital actors. Our focus at Europafilms is on developing our virtual production pipeline for projects. Reallusion's products complement our workflow and offer seamless integration with other professional applications and software.
R: Also, please tell us about your participation in the "iClone Lip Sync Animation Contest 2021" and your idea to create "LumberJack".
Above all, the goal was to facilitate the creative process and quickly create animations in iClone. The LumberJack character was created in Character Creator in less than 2 hours and then exported to iClone. We spent about an hour writing a simple script that was used with an appropriate voice in the Replica Studios – AI Voice Actors application. The audio download was imported into iClone and processed with AccuLips and the Explus function for the appropriate facial expression. Within minutes we had the first animated pass of the scene.
Back to Character Creator to add some dirt and grime layers and the LumberJack character was done. Then it went back to iClone to tweak the animation and facial expressions. This can take some time, so less is more and you need to know when to stop.
R: What other software did you use in this animation?
After the performance of the LumberJack character was completed in iClone, the final artwork was rendered as an image sequence, and Adobe After Effects was used to create the final background, smoke, spark effects, and final artwork. Adobe Premiere was used to edit the sequence and add the final audio mix.
R: Do you have any tips for users who are new to the world of 3D animation?
Download a free trial of iClone and Character Creator and follow the beginner tutorials on Reallusion YouTube channel. There are also many free 3D programs like Blender or Daz Studio, all of which have a strong community of users of different levels and abilities, who also offer tutorials. Art Station or CG Society are also great places to post your work in progress and spot some of the best emerging talent.
There's also Pixar in a Box. A free online course with tutorials provided by Pixar Studios and Khan Academy that new users may want to try. You can focus on and perfect a specific aspect of the animation, e.g. B. character development, concept and environment design, modelling, texturing, lighting or the animation and movement of characters. Either way, Pixar in a Box provides a comprehensive overview of animation, walking you through the filmmaking process and techniques involved.
An ending sequence in a film can require the collaboration of many specialists to create top-notch animation. So start with something simple, make it perfect, and work your way up from there. For reference, you should spend a lot of time observing the real world around you to understand timing, depth, textures, lighting, mood, and movement.
R: Do you already have plans to further develop "LumberJack" or to realise other projects?
LumberJack was specially created for iClone Lip Sync Animation Contest 2021, but we can continue to develop his character. We're in the process of designing a few more characters as part of a larger project to be released later. Character Creator and iClone will play key roles in the development of our virtual production, so we'll keep you posted.
Character Creator has become an essential tool in our production pipeline for 3D character and Digital Human creation. Reallusion has enabled us to produce realistic characters, Digital Humans and high quality animation for any scene we can imagine. Making it an intuitive experience to block out our ideas and then to further refine the process for either stills, film or video output.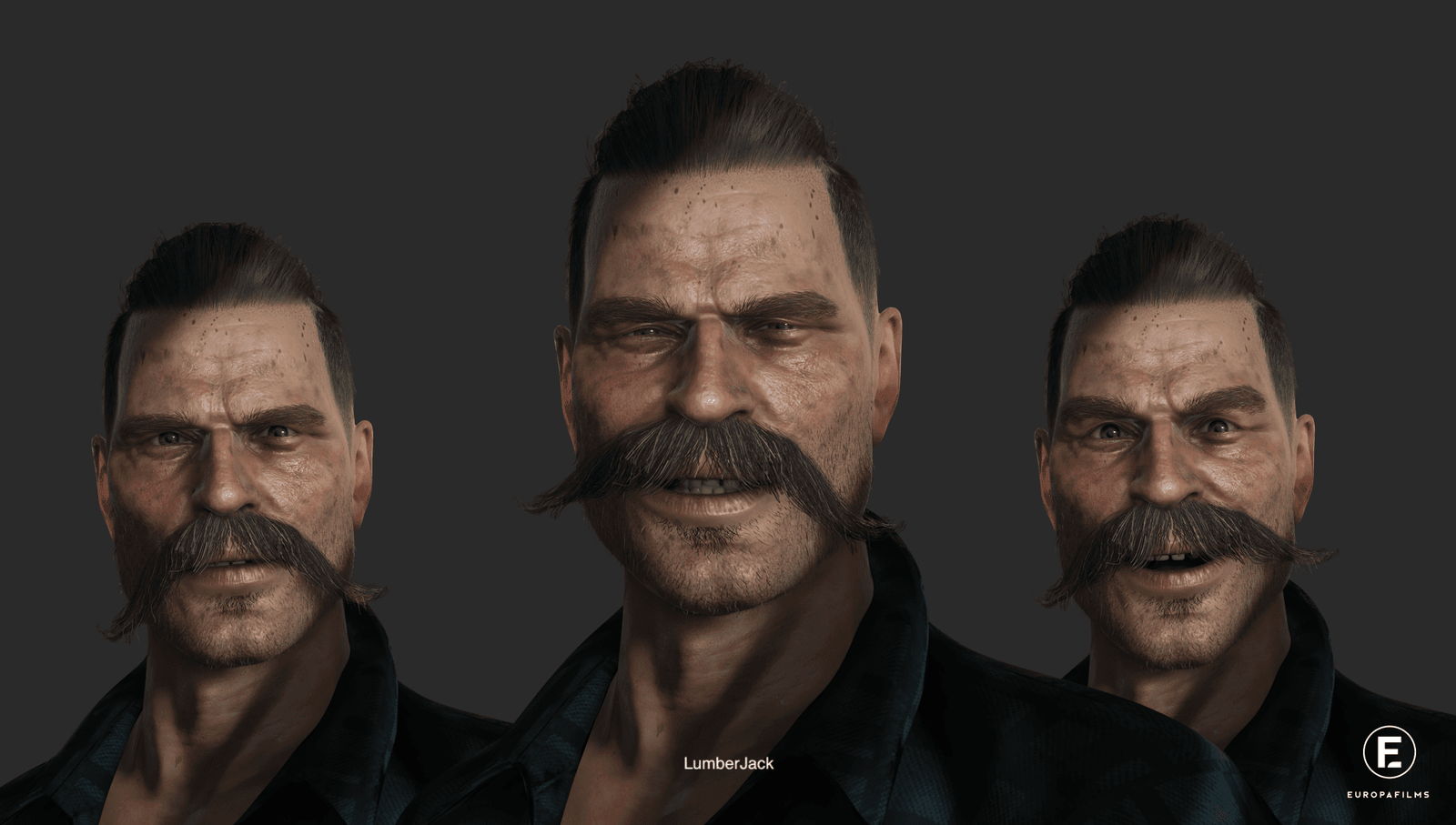 Read more